Jurassic World LEGO Lamp with T-Rex from Set 75918
---
Cruise liner, the Carnival Fantasy, features a fairly impressive LEGO model on-board.  The model  is actually a large scale model of the ship itself!     Being on vacation, I did not have anything other than my smart phone to capture a few photos, so I do not have exact measurements, but this thing is epic!   The boat is displayed in a glass enclosure on the public interior shopping level, and features only a LEGO logo on the case.  There are no notes regarding who built it, parts count, or even when it was built.  Does anyone out there know?...
---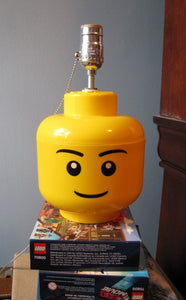 Welcome back LEGO friends!   Who wants to learn how to build a LEGO  lamp?  Well, a LEGO Minifigure Lamp, that is!   Disclaimer: Please use common sense when constructing your LEGO Lamp.  Consider using glue for a sturdy finished lamp that will withstand day to day use.  Brickablocks.com is not responsible for the accuracy of recommendations included in this listing, as they are based on previous experience and generalized lamp characteristics - meant to be used as suggestions.   This week, we thought we would share a great little project you can do on your own if you find yourself stuck...
---
LEGO will be releasing a DC Comics set later this year called 'Jokerland.'  The set number is 76035, however it is not listed for sale yet at shop.lego.com .       LEGO 76035 Instructions Booklet Cover[/caption]   However, the build instructions have been posted online, which gives a pretty clear picture of what to expect.  This set features some great carnival themed builds, but we are going to focus on our favorite super hero team for this post.  The Teen Titans!     T\   The Jokerland LEGO set features Robin, Beast Boy and Starfire minifigures, so naturally the Robin in...
---
Just a quick announcement to let everybody know we've added some solid color choices to our parts and pieces pack for building an infinity folding cube with LEGO bricks.